Dilled New Potatoes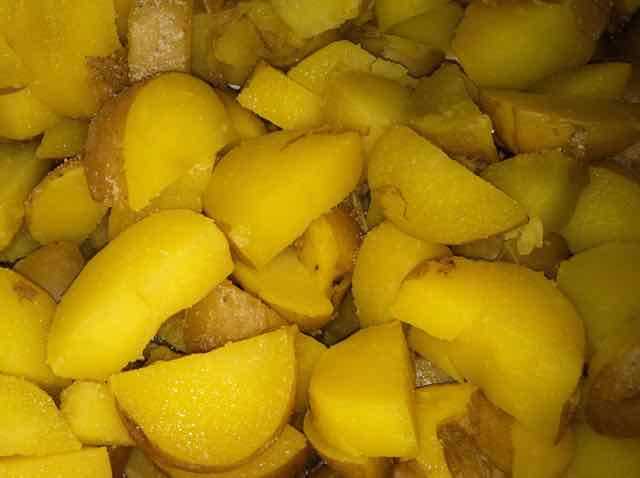 Recipe type:
summer salad
Choose firm potatoes that are 1-1/2" - 2" in diameter.
1½ pounds waxy red or yellow new potatoes (approximately 16 - 20 potatoes)
3 tablespoons butter
3 tablespoons chopped dill
salt
Lightly scrub the potatoes with a vegetable brush, enough to take off any dirt, but not enough to do too much damage the thin skin of the potato. One of the beautiful things about new potatoes is that you don't have to peel them. However, for a more attractive presentation, peel a thin strip all the way around the middle to create a contrasting stripe.
Place the potatoes in a pot large enough to cover the potatoes completely with water by a couple of inches. Add about a teaspoon of salt to the water and turn the flame on high. Bring the water to boiling and let the potatoes cook for 12 - 15 minutes, then test--you don't want to overcook them. They're done when they're soft throughout, but if you care about presentation, test with a sharp knife, not a dinner fork because its tines will tend to break the small potatoes in half.
When the potatoes are fully cooked, drain them into a colander. Jiggle the colander to help the potatoes dry a bit. If you're adding butter, throw it into the hot empty pot and back onto a low flame and swish it around until it melts, then turn off the flame. Add the somewhat dried potatoes back to the pot. Sprinkle the dill over the potatoes, and salt if desired. The potato skins will be a bit loose, so gently toss them to coat with the butter, salt and dill, so as not to wreck the duotone effect.