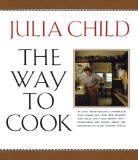 Last night, I was fortunate to be a guest at a Julie & Julia film screening for Random House employees. The profusion of press coverage has focused on topics like the gloriously mouth-watering food-on-film (warning: do not see it on an empty stomach!); the joys of a warm, mutually supportive marriage; the fantastic performances, including Meryl Streep's transformation into Julia Child, etc., etc.
Of course, I was struck by the spot-on portrayal of… book publishing!
In my former life on the other side of the publishing fence, I briefly worked with Julia Child, marketing reprints of two of her books for a division of Random House. She was delightful and I enthusiastically joined the cult of JC, embracing her The Way to Cook as an everyday, go-to reference. (For those who think she's all duck-de-boning and saving the liver, fyi: her method of hard-boiling eggs ensures there's no green rim around the yolk, and that the suckers are E-Z-2-peel for your humble egg salad.)
After that, Julia was unbelievably gracious when I saw or wrote her–which was amazing, given the number of people with whom she was acquainted and with whom she corresponded. A few years later, when I was Doubleday, I marketed Appetite for Life: The Biography of Julia Child, by Noel Riley Fitch and became immersed in Julia's life story, then re-visited it through her own eyes (in collaboration with her grand-nephew, Alex Prud'Homme) in the more recent My Life in France–one of the two books on which Julie & Julia is based. Admirably true to the facts of Julia's story, among many other delights, the film  gives audiences a realistic peek into the trials and tribulations of writing a book and getting it published. In addition to the joy of seeing one's first book accepted–and then in print–filmgoers will see some of the down-and-dirty details aspiring writers may not realize:
• Julia's magnum opus Mastering the Art of French Cooking took eight intense years (and two other people) to write.
• Julia struggled to play fair while resenting that one of her two co-authors doesn't do nearly her share of the work.
• The book gets dumped by its first publisher–even Julia Child struggled with rejection and self-doubt.
• An intensive, eight-year project nets three first-time authors a $1,500 advance in 1960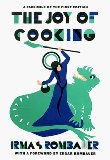 • Related bonus cookbook publishing trivia: Irma Rombauer paid $3,000 to self-publish The Joy of Cooking in 1931. (I'm guessing that detail is from Stand Facing the Stove, a book about the publication of the Rombauer classic. And I loved the brilliant Frances Sternhagen–a.k.a. Brenda Lee Johnson's mother in one of my favorite TV shows The Closer–as Mrs. Rombauer, who apparently didn't feel the need to test all the recipes–caveat cooker.)
• Judith Jones, Julia's editor, uses a morass of index cards to come up with the best title for the book–a method based pretty much on gut instinct and, for some,  "what does sales think?" and which, to this day, remains unchanged save for the invention of word processing. (Judith Jones' food memoir, The Tenth Muse, offers her own perspective on publishing Julia Child, among other cookbook writers and, in advance of her forthcoming second book, launched her own blog called judithjonescooks.com. FYI, today's post includes her thoughts about the movie.)
Ms. Jones also has a presence in the "Julie" portion of the film. Taken from Julie & Julia, Julie Powell's memoir of her year cooking and blogging through Mastering the Art of French Cooking, that storyline follows the title character (played by Amy Adams) projecting a more current version of writerly angst. You see the hope, then wonder, then self-satisfaction when an underemployed, born-writer finds out there are people following her life and work on her blog. And you see a writer who's not immune to disappointment, even with sudden and obviously gratifying media attention and the promise of a book advance presumably much more generous than Julia's was.
I've been a fan of Nora Ephron since I read–and laughed and cried over–her roman à clef Heartburn during my very first job out of college at Random House (and I couldn't help but think about that book–and her own history–when I later taped Carl Bernstein for a Doubleday video). So I like to think that, in addition to her storytelling talent and her filmmaking skills and her ability to convey the passions of lives well-lived and to capture some deliciously gorgeous food, Ephron's firsthand knowledge of publishing and love of books informed her writing and directing this seriously delectable film.
And I like to remember that, before there was a Julie & Julia on the big screen, there were all those great books!
[youtube=http://www.youtube.com/watch?v=vjvJHsJD8ic]