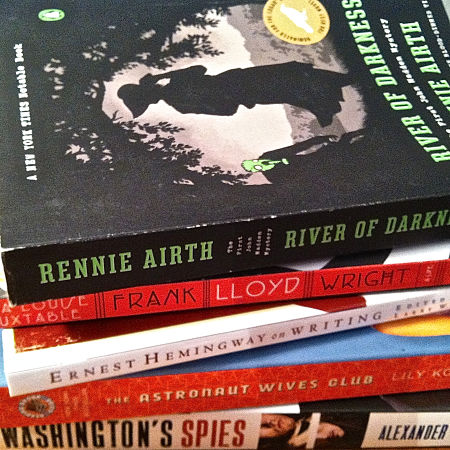 As if my luggage wasn't overstuffed enough, I couldn't resist buying more books on my bookstore-centric trip to Chicago and the beachy West Coast of Michigan. Here's a sampling:
Resisted buying in Chicago through two Barbara's Bookstores (despite their excellent selection of cocktail books, including…) and a B&N until day in Oak Park prompted a desire for a deeper knowledge of Frank Lloyd Wright (even though I read Loving Frank awhile back), so picked up Ada Louise Huxtable's short biography at Seminary Co-op Bookstore (near to FLW's Robie House on the University of Chicago campus). Being a huge Apollo 13 fan, the retro, true-story copy of Astronauts Wives Club at the Co-op's nearby sister store 57th Street Books called "Buy me! Buy me!" An AMC Turn fan, the source material, Washington's Spies, has been on my list for awhile and lo! there it was at Reader's World in Holland, whose unassuming windows belied a modest but carefully-curated selection inside.
Thinking I was done with dragging books home, it was book browsing and sidelines-as-souvenirs at Schuler's in Grand Rapids,  Cottage Book Shop in Glen Arbor, Horizon Books ("There's that great cocktail book again!") and Brilliant Books in Traverse City (love my Brilliant Books mug!) and Round Lake Books in Charlevoix…
But there was no resisting Hemingway at the Red Fox Bookstore in Horton Bay, and a book on writing seemed appropriate to my needs… Petoskey's McLean & Eakin Booksellers tempted with its regional treasures and a new selection of vinyl records and "record players." But I resisted more books…
… until Rennie Airth's John Madden (highly recommended to me) caught my eye in the lovely Between the Covers in Harbor Springs and I picked up the first in the series en route to Mackinac Island…
Already packed and en route to the Detroit airport, the irresistible displays and staff at Saturn Booksellers in Gaylord compelled me to find space for a few more sidelines in my carry-on…
Stay tuned: I'll be writing about the trip and the stores in more detail for About.com Book Publishing.