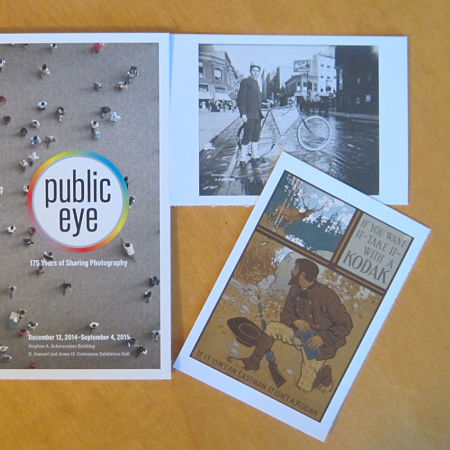 In the age of Instagram (guilty!), The New York Public Library exhibit "Public Eye: 175 Years of Sharing Photography" demonstrates that "Photography has always been social." It is exhaustive in scope, and well worth seeing.
But before I even stepped into the exhibit hall, what struck me was how the brochure I picked up at the entrance was a brilliant example of content strategy in action — its design utilizes the modest capabilities of a simple printed piece to cleverly encourage sharing photography via an historically traditional form: the postcard.
The cover flaps of the brochure incorporate four images from the exhibit in the form of hand-dandy tear-out postcards, with plenty of room for writing out and sending. That alone is a nifty value-add for visitors and (a likely not very extra-costly) "social promotion" marketing tool for the exhibition.
But the fact that the postcard effectively incorporates the exhibit's photo sharing theme right into the form is what qualifies the idea as strategically cut ("perforated"?) above the typical content + design effort.
According to Susan Rabbiner, Assistant Director for Exhibitions, the brochure was a collaboration between the NYPL's curatorial, exhibition, and design teams — which included the outside design firms Morris Sato Studio LLP and Dresser Johnson.
Admission to this NYC treasure is free, as always. Public Eye runs through September 4 in the D. Samuel and Jeane H. Gottesman Exhibition Hall in the NYPL's Stephen A. Schwarzman building aka the Main Branch on 42nd Street and 5th Avenue.
*If you're visiting the NYPL's Main Branch, don't miss the beautifully curated offerings in the gift shop — it truly is "For Readers and Writers."