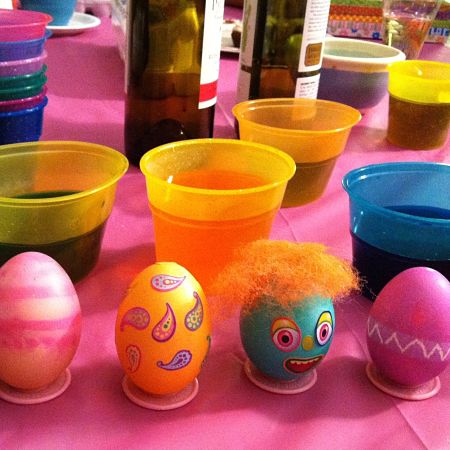 Next week, millions of decorated eggs will be "rebirthed" into lunches and hors d'oeuvres — which prompted me to ask Suzanne Taylor — aka Somm 'Zan — to write the following deliciously informative guest post about possible go-with wines. You'll notice from the photo of my own hard-boiled works of art that I'm also a proponent of drinking wine while coloring eggs. Does it help or hurt the results? You be the judge. — VP
Easter is nearly upon us and, before you know it, many of you be wondering what to do with all those delightful hardboiled eggs you've decorated. Egg salad? Deviled eggs? Absolutely! Even more pressingly for some of us (ahem), which wines do you pair with these classic dishes when eggs present a challenge for wine pairings?
On their own, the sulfur compounds eggs release when cooked just destroy a wine's flavor. But don't despair. Fortunately, hard-boiled egg dishes generally call for mayonnaise, a great equalizer with its ying-yang of tangy creaminess. Add the infinite number of variations on the basic egg salad and deviled egg recipes, and you've got ample opportunity to explore a few wine pairings to decide which combinations please your palate most. While there are some basic food and wine pairing "rules" it's really up to you and your palate to decide what tastes best.
Mayonnaise is fatty and let's be honest: that's why we love it. With fatty and/or salty foods you need high acid wines to cut through the fat or downplay the salt. People are always surprised when I tell them that Champagne is an awesome food wine — the bubbles and high acidity work so well together to amp up the flavor in most dishes. In fact, it's one of the two when-in-doubt-go-with wines, the other being rosé. So why not a dry, sparkling rosé? Yes, yes, you want to try it! Trust me. Even better, you do not have to break the bank to find a tasty sparkler and can do very well with
1. Contadi Castaldi Franciacorta Rosé Franciacorta, located in Lombardy, is Italy's Champagne region. The sparkling wines produced here are prized by those in the know for their high-quality and great value.
2. Val de Mer Sparkling Rosé Brut of Pinot Noir from Burgundy, France is produced by famed Chablis upstart, Patrick Piuze who is adored by many somms. I poured this lovely wine at an event recently and it was a crowd-pleaser.
3. Gruet Rose Brut NV from New Mexico is an interesting twist. How many good wines have you tried from New Mexico lately? If you try this one you can tick that off of your bucket list. The Gruets emigrated from Champagne and know more than a thing or two about making terrific sparkling wines.
For those who do not favor bubbles, we've got you covered too. If your recipe is green-herbed base then consider serving a sauvignon blanc from Sancerre in the Loire Valley as it has both the acid and green notes to compliment your dish. A gruner veltliner from Austria also has the green notes you'd want to play off the herbs. In fact, if you like to curry your egg salad or deviled eggs — something I am fond of — then gruner veltliner is definitely the way to go. For some magical reason this grape has an affinity for curries. And we cannot not mention the king of acid, dry Riesling which may very well be the ticket for your meal.
If you don't "do" white wine, but really want to pair something with your egg salad or deviled eggs you need a red wine that has good acidity and is not too tannic. Why not try a fun, well-priced little Beaujolais made from gamay that is not Nouveau Beaujolais? Great slightly chilled too. Or a pinot noir from Oregon might suit.
We all have different palates and tastes; so, the best rule of thumb is good wine is what tastes good to you. But to find out what tastes good, you have to taste. It's really as simple as that. So go forth and enjoy the spoils of your Easter egg hunt and as many wine pairings as you dare to sample!
— Guest post by Suzanne Taylor, a certified sommelier who runs private wine tastings. Learn more on Instagram @taylorettes.