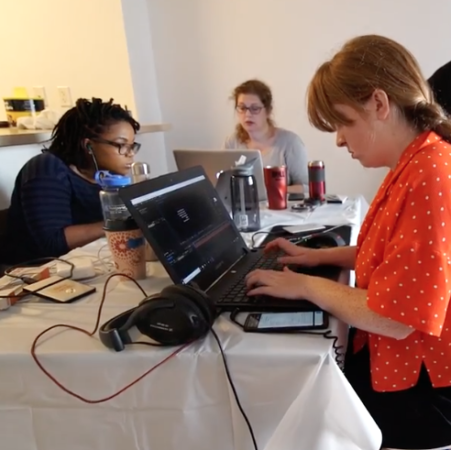 Thanks to San Gennaro (!), in mid-September, I was tapped to co-write a short film as part of the second Women's Weekend Film Challenge (WWFC). As I've been spending my time on the writing end of things, it had been awhile since I'd been on a set that wasn't "corporate." Plus, it was my first "film challenge" and the organizers of the weekend had a specific, overarching goal that I fully and enthusiastically support …
To promote pro women film creatives
To be clear, it wasn't a "competition," as many of short-time filmmaking challenges seem to be. In the words of the WWFC folks, it was organized:
To help female filmmakers network with each other so that they can hire and recommend one another in the future.
To tell women's stories on film with women behind and in front of the camera.
WWFC Team Rees
I was a part of Team Rees – named after Mudbound director Dee Rees. Comprised of about 25 diverse women, the group pooled time, resources (equipment, locations, connections), skills and talent to create a mockumentary short in three days. (Here are details about why that genre – aka how the challenge works.)
Led by Allison Hanes, our Pretty Dead team was directed by Inga Moren and our terrific crew and cast included DP Kristen Meloche and AP Wynona Barbera. (In the featured photo by Anice Jee, at the top, left to right: DIT/AE Tatiana Avery, yours truly and editor Claire Johnson on set). For a complete list of cast and crew, visit the Pretty Dead IMDb page.
The WWFC provided tremendous support in the form of organization, guidelines and hints, production insurance, and more.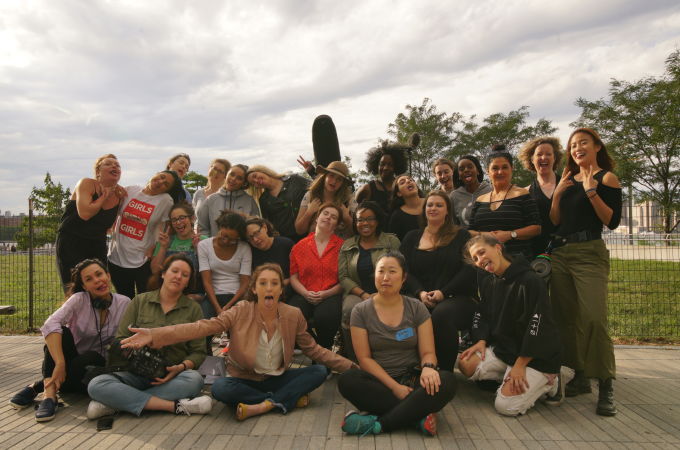 Pretty Dead short film production
As with any project short on time, the weekend truly was sometimes… a challenge. But it was also a privilege to brainstorm with, co-write and be on set with such a talented, skilled and accomplished team (full team listing on the Pretty Dead IMDb page). 
We filmed in Williamsburg, Brooklyn both indoors and outdoors. New York City, as always, provided stellar views. And lots of places to "hide" the bodies … 😉 
For more about the production (like some stills and a "making of" video), check out the Pretty Dead film page. 
The finished Pretty Dead short film…
Most gratifying was the great response Pretty Dead has gotten from those who've seen it in very private screenings at this writing. Sorry to be a tease but watch this space for info re: public film fest screenings.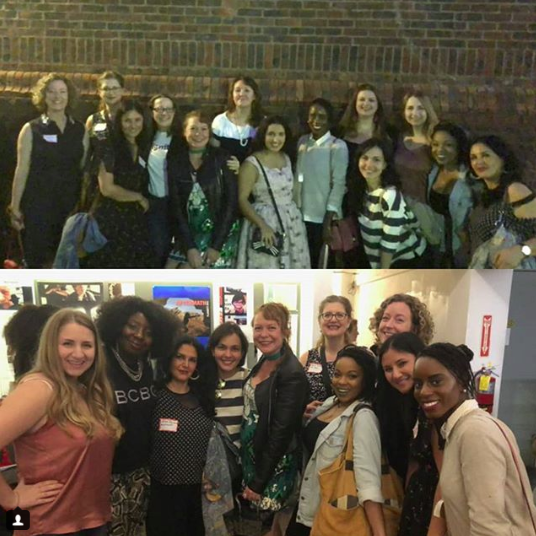 The other WWFC teams…
All told, the WWFC teams turned in eight admirable films — SO fun to see during the private screening. It was especially great that the line-up included women in my creative circle. For example, Peggy Ellis of Showrunner Productions, led Team Duvernay's Game Over, a great horror short. Feature filmmaker and NY Screenwriters Co-op Meet-Up leader Laura Kelber and Diana Cherkas, a former classmate from a TV pitching course at the School of Visual Arts both AP'd Team Kusamas And So It Is.
It was a thrill to see my friends' and colleagues' work — and to meet so many new professional female filmmakers at the screening and afterparty. The event was so great for community building on all levels.
What's next for Pretty Dead?
At this writing, Team Rees is submitting to film festivals — I'll be posting Pretty Dead festival screening news and other developments here.