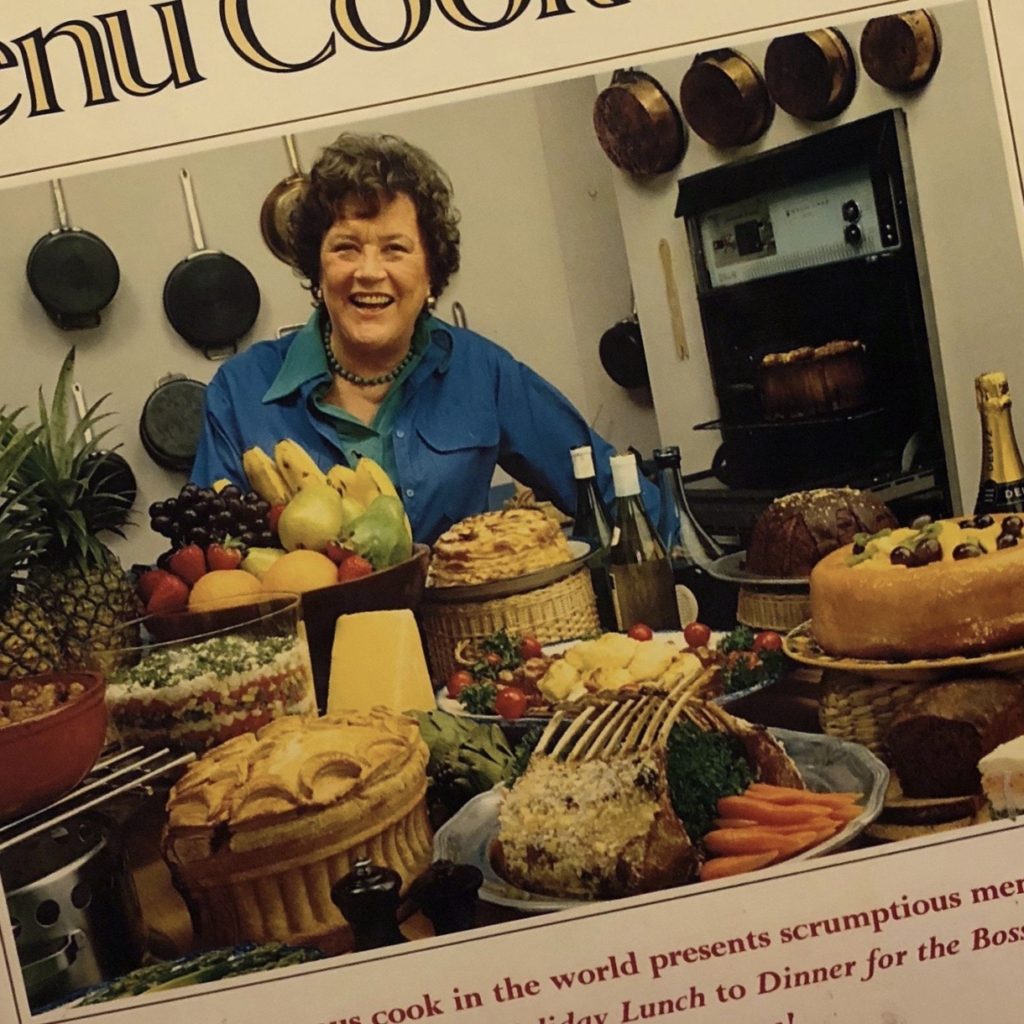 There are certain creative pros both current and past that I truly admire — one is Julia Child.
Throughout the food TV and cookbook world, the iconic "French Chef" was known for her hard work and professionalism and for her sense of fun. For the ContentMeant blog, I've written about Julia Child's life and road to publishing her first book as well as about the marketing lessons that can be taken from her long and productive career.
But here, I remember her personally.
Years ago, I was fortunate enough to have worked with Julia on a reprinted, bind-up edition of two of her cookbooks, entitled Julia Child's Menu Cookbook. The first time I called her Cambridge home, she answered her own phone and I thought someone was playing a prank on me — her voice had exactly the high-pitched vibration as it did on television. She was warm and lovely.
At that time, Julia was 80-ish — but her intense schedule of appearances was so packed that it made me — many decades her junior — tired. But Julia was ever the epitome of a low-maintenance author. The most she ever asked for was this was an extra hour or so in the hired limo to her local book signings so she could have a ride to visit her beloved husband, Paul Child, who was by then in a nursing home.
A few years after I worked with her, I was with Doubleday and was responsible for marketing one of her biographies — Appetite for Life, by Noel Riley Fitch.
One day around that time, on my way to an orthodontist appointment, I ran into Julia on the street in Midtown Manhattan. I remembered myself to the very recognizable author, who had just had lunch with Michael Lomonaco, then the chef at "21" (and whose The "21" Cookbook I'd also worked on).
While Julia and I stood on the street, a small crowd gathered to also offer help. Julia was looking for Pennington's du Canada, a "big and tall" woman's store then in Rockefeller Center, and was a little turned around. I walked her to the clothing shop and all the way she dished about the then-upcoming new-fangled edition of Irma Rombauer's The Joy of Cooking, which was infamously behind schedule at that point. Julia told me that the publisher was releasing one chapter on cookies as a stand-alone book — The Joy of Christmas Cookies — to get at least some of the larger book's projected revenue into the fiscal year. Her well-sourced, gossipy news proved to be spot on. As always 😉
After I left Doubleday for Wiley to work exclusively on cookbooks, I reached out to Julia for a blurb for on the U.S. edition of Nigella Lawson's first cookbook, How to Eat: The Pleasures and Principles of Good Food. Lawson was then unknown to the U.S. cookbook market and I was digging in hard to figure out how to sell a $35 paperback (ah! the P&Ls of Wiley cookbook publishing!). Gracious as always, Julia declined to blurb the book (it was her policy not to), but she responded to my request with a long, personal, typewritten letter, congratulating me on my new job and complimenting the quality of the Wiley cookbook list.
I put the letter in Nigella's file and it's no doubt been lost as offices have moved. But on the anniversary of Julia Child's birth, I want to honor her memory as creative pro in every sense of the word with whom it was a true pleasure to work.
• • • • • •
Disclosure: This post contains affiliate links relevant to the content. Purchases made through those links, which are distinguished from other links by their bold typeface may result in a small commission to me at no extra cost to the buyer. And it will definitely increase your Art Karma.