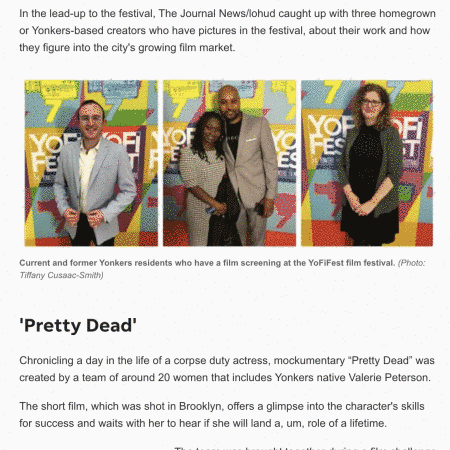 YoFiFest hosted a "Meet the Filmmakers" night, which was so much fun and — bonus! — Lohud News reporter Tiffany Cusaac-Smith interviewed several of us who had deep ties to Yonkers and graciously included Pretty Dead in her article.
That's me all the way on the right in the picture above … such a fun night and thrilled that this deserving team got some press! Here's the link to the full story, including filmmakers with local ties.
Come to YoFiFest!
The 8 minute Pretty Dead mockumentary will be part of the Funny Ladies: Comedy Shorts block, which takes place on the first weekend of YoFiFest:
Sunday, November 3
2pm
At the Atrium Theater (a BIG one!) at the Yonkers Riverfront Library (right across from Yonkers MetroNorth Station on Hudson Line)
TO ORDER TICKETS – They're $12 … Link here to the YoFiFest website – and follow the prompts for the tickets. If you go to the individual tickets, scroll down to Sunday, November 3 and look for "Funny Ladies" in a green stripe.