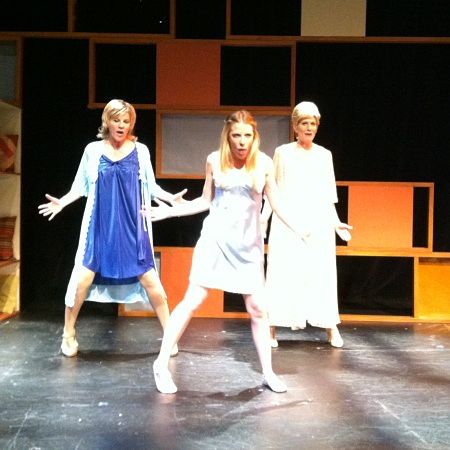 Who ever suspected the Carol Brady* would so ruthlessly facilitate Mike's growing architectural power? Or that Danny Partridge had Oedipal issues?
But those underlying, tragic themes are hilariously exploited explored in The Bardy Bunch, a Shakespeare-Partridge Family-Brady Bunch mash-up musical, in which the book (by Stephen Garvey) hews with loving precision and in equal measure to the plot points of the 70s sitcoms and those of the Bard's tragedies. And the music brings a whole lot of lovin'.
The Elizabethan-theater / psychedelic sitcom refresher course is especially resonant if you're Lit major intimately familiar with the Partridge Family musical oeuvre [ahem].  Bonus points if you remember the Brady's "It's a Sunshine Day" and "Keep On." Spoiler alert: the body count is pretty high, though nobody is really loathe to see Cousin Oliver go… And nobody really paid attention to Jan, anyway.
[Note that these lousy iPhone photos were explicitly not allowed. Seriously, we all know I'm usually a rules-girl, but I somehow missed the concept that "electronic devices" included… oh, well. I got payback, of sorts…]
*The awesome Lori Hammel. Read more about the cast, crew and show on The Bardy Bunch official website..