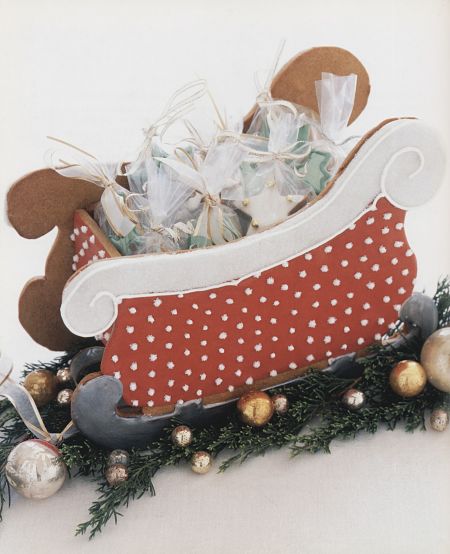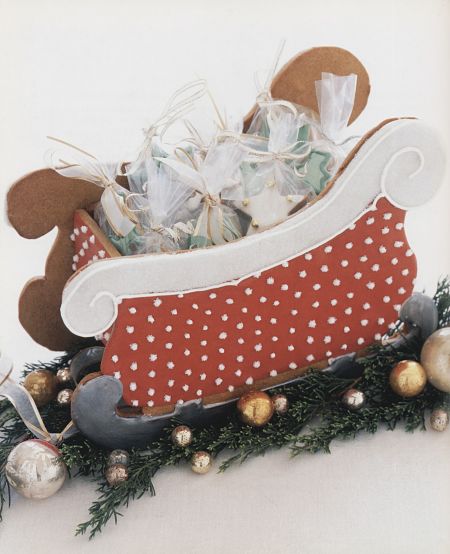 Thought I'd share a peek behind the scenes of the cookbook development process — as kind of a complement to my recent About.com articles on publishing cookbooks.
My first book, Cookie Craft, features the three-dimensional gingerbread version of Santa's sleigh (pictured at left), which can be used as a holiday centerpiece or even an Advent calendar.
I recently unearthed the process shots that my co-author Janice Fryer and I took while we were developing the pattern and the technique. These were then used by Alison Kolesar, one of our brilliant illustrators, to create the step-by-step illustrations.
So… here's a behind-the-scenes photo gallery – a look at both how we developed the sleigh and how cookbooks are "crafted." Notice for the final sleigh creation and the photograph in the book, the food stylist (someone on Sara Neumeier's team) chose to use piped, sugared dots rather than the snowflakes that we used in the original.
P.S. Our publisher Storey / Workman is featuring Cookie Craft Christmas the e-book version among the books discounted in their December special promotion. For lots of holiday cookie inspiration at a bargain price, check out the Workman Blue Plate Special, here.